Autumnal Exhibition and Night Visit in 2020
Autumnal Exhibition and Night Visit in 2020 will be held according to the following schedule.
Depending on the status of Covid-19 infection, it is expected that the period and the management form will be changed significantly. Please check this website for the latest information.
Day Time Visit (Autumnal Exhibition 2020)
♦

Period: November 7 (Sat) ~ December 6 (Sun)

♦

Reception time: 9:00 AM ~ 4:00 PM (The visit is closed at 5:00 PM.)

♦

Admittance fee:
  Adult 1,000yen
  Student 400yen (a primary school ~ a high school)

♦

Items displayed:
Attention
The ticket for the Night Time Visit is diferent from the one for the Day Time Visit. All of the Day Time visitors are requested to walk out the precincts before 5:00 PM.
Night Time Visit
♦

Period: November 7 (Sat) ~ December 6 (Sun)

♦

Reception time: 5:30 PM ~ 8:30 PM (The visit is closed at 9:00 PM.)

♦

Admittance fee: 600yen (above a junior high school student)

♦

Items opened: Amida-do, Gasen-do and the garden
Oct. 01, 2020
Eikando Zenrin-ji
---
About issuing red seals of Eikando (Shuin)
Although we have resumed the regular visit in June, the coronavirus infection has been spredding again. New measures are needed to prevent the spread of the virus. In addition to the conventional measures of wearing masks and disinfecting hands, we will be reducing the operations at the Shuin office, where there is a high risk of close contact with the virus. For the time being,
only a slip of pre-written Shuin is availablel from Monday, July 20, 2020.
We ask for your understanding and cooperation in this matter.
[Info] What is Shuin?
In the olden days, peaple wrote sutras and handed them to temples. The temples issue a red seal as a proof of receiving them. This red seal is a origin of Shuin. Even today, the red seal book is also called a sutra book, and it is common to receive an calligrapic signature and red stamps from a temple or a shrine. Shuin is proof of religious faith.
Some visitors to temples and shrines may think of it as a commemorative stamp that can be given at tourist sites, but it is important to understand the meaning of Shuin.
July 29, 2020
Eikando Zenrin-ji
---
For Travel Agents and Group Travelers
Buses will not be allowed to enter
during the Autumnal Exhibition and Light-up period.
As a countermeasure against Covid-19 infection, it is essential to maintain interpersonal distance (social distancing) .
Since many people visit the temple during the "Autumnal Exhibition" and "Light-up" periods, we have been studying how to secure the distance between people. In order to keep enough distance, we must first secure space to avoid congestion, and then,to avoid a pin-pointed crowdedness caused by buses passing through the precincts.
Therefore, during the "Autumnal Exhibition" and "Light-up" period, the entry of a bus will not be allowed during the day and night.
We apologize for the inconvenience this may cause to those who are planning to travel in groups.
The infection is still ongoing. Please take care to wear masks and disinfect your hands. We have also reduced the distribution of shoe bags to cut down the waste.
Please bring your own shoe bags or plastic bags with you when you visit Eikando.
July 10, 2020
Eikando Zenrin-ji
---
Request to bring a shoe bag
In order to reduce plastic waste, it is necessary to reduce the use of plastic bags. At Eikando, we also handed out plastic bags as shoe bags, but we will stop the distribution of a plastic bag in stages over one year from July 1, 2020. In the future, we would like to request visitors of Eikando to bring their own shoe bag. We would appreciate your understanding and cooperation.
July 1, 2020
Eikando Zenrin-ji
---
Beware of spoofed e-mails by the sender's name of Eikando !
Junk e-mails have been still distributed under the spoofed IP-address of Eikando.
xxxx@eikando.or.jp is the sender's address of those junk mails. The characters of xxxx are changed from time to time. We never send e-mails except for a reply for your inquiry.
Those spoofed mails may be in danger of a virus. When you receive an unexpected mail under the sender's address mentioned above, please deleted it without opening.

Jan. 01, 2020
Eikando Zenrin-ji
---
Paintings in Amida-do
Amida-do, the main hall of Eikando temple complex, was moved from Shitenno-ji temple to Eikando in 1607. Historical documents say that Amida-do was decorated with many paintings to visualize the world of Pure Land. But 400 year-time makes the paintings fade out. Many parts of the hall were repainted over by urushi, a Japanese lacquer.
In 2006, a basic research was started to restore them. A painstaking work revealed that there were hundreds of patterns and figures on the beams and pillars in the hall. Researchers also found the handwriting by an ancient carpenter on an above part of a pillar. It says "ぬし やぎゅう・・・ 慶長十二年・・・". "慶長十二年" means the year of 1607. This handwriting backs up a record of the historical documents.
Specialists traced these figures and restored the original images and also analyzed the painting materials. For four years, many paintings are restored. The work will be completed in October, 2010. A quarter of the hall is left without any work for the future research. The following pictures are some of the restored paintings.
When you visit Eikando, do not miss to appreciate the restored paintings with vivid colors and gold. You will be surely impressed by them, the world of Pure Land which was an image of the Buddha's world of ancient people.

Hiten (Heavenly music player )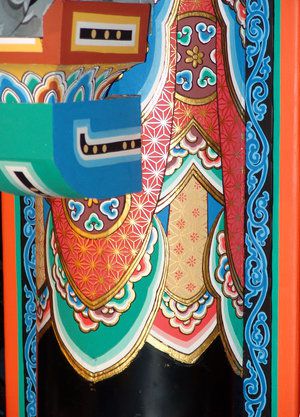 An ornament of a pillar with gold foil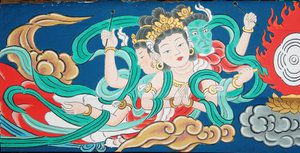 Hiten (part)


Zuicho (A kind of a bird in Pure Land )


Dragon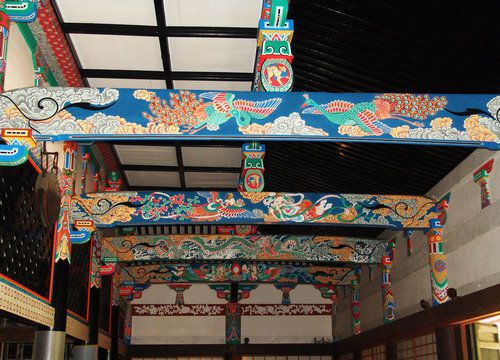 Restored paintings on the beams